In fact, there are many alternatives to gluten and with a suitable bread machine it's easy to produce soft, crisp gluten-free bread. You only have to choose the right appliance, find a good recipe and practise a little. Don't lose heart if your first results fail to come up to expectations! After a few tries and with a little experience, everyone finds their ideal recipes for home-made gluten-free bread.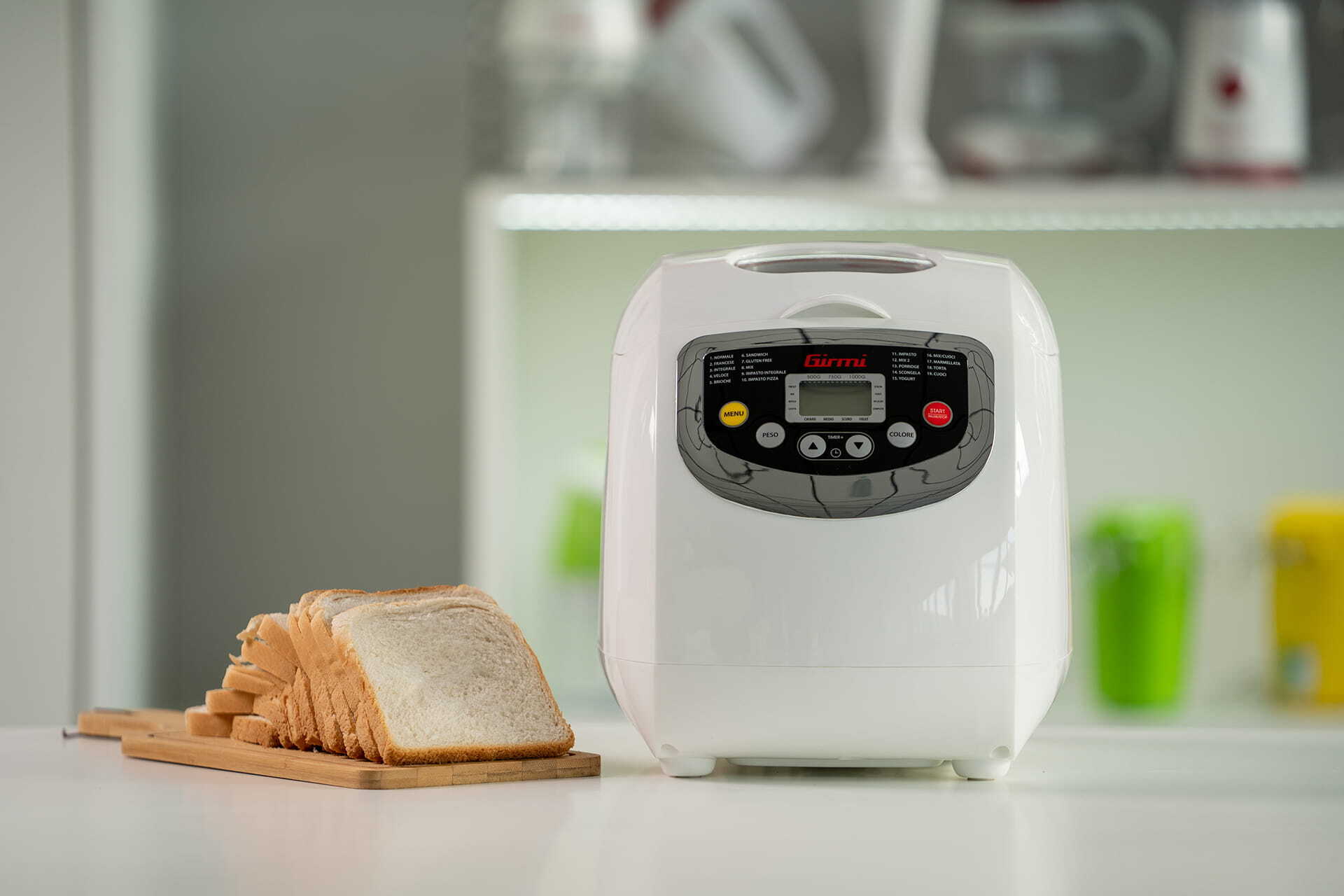 Girmi MP20 bread machine In this article we'll see how to make bread with the aid of the Girmi MP20, a very versatile model of bread machine which also has an automatic programme for gluten-free recipes. This factor is essential when making gluten-free bread, because the dough is much softer and stickier than the conventional type, and with some machines it could be particularly difficult to get good results. In fact, it is gluten that binds the dough and gives the bread its typical consistency, soft inside and crisp outside. To compensate for its absence, the right mix of ingredients has to be combined with shorter mixing times, longer proving and slower baking, as provided by the Girmi MP20.
Let's start from the beginning: defining gluten intolerance
If you're reading this article, you've probably searched for a recipe for gluten-free bread and you know what we mean by gluten intolerance. But let's make it quite clear. Gluten is a protein found in many cereals, including wheat, rye and barley, which makes the doughs of bread, cakes and recipes produced with standard flours firm and elastic. Some people suffer from gluten intolerance or coeliac disease, an auto-immune disease which causes chronic inflammation of the small intestine, triggered by eating gluten in people genetically predisposed to the condition. The symptoms are not always the same in all sufferers and very often a coeliac disease diagnosis is only reached after many years of chronic problems. Sometimes, chronic fatigue, headache or an irritable bowel may be signs of an intolerance.
Why can a bread machine make your life easier?
If you've been diagnosed with coeliac disease, your first problem is that you have to completely revolutionise your diet, eliminating all foods which contain gluten, meaning most grains. This may seem rather overwhelming to start with, but you'll soon realise that there are many alternatives to these foods. However, one of the problems you might find is that you have to eat a large number of industrial foods, which you don't particularly like. Where there's a will there's a way, and making some foods at home will let you customise your diet more to suit your own taste. From this point of view, a bread machine is a great help, because with it you'll be able to make something much more similar to the bread you used to eat, whenever you want. It will always be warm and fragrant, and you'll be able to make any variations you wish, such as by adding walnuts, seeds or spices. Nothing makes you feel at home as much as the fragrance of freshly baked bread! With Girmi MP20 it will be very easy to make it: you just set your chosen programme and let the machine do the rest.
How to make gluten-free bread with Girmi MP20
The easiest way to make gluten-free bread with a bread machine is to use one of the many bread mixes (blends of gluten-free flours) on the market and run the programme provided. You simply place 200 ml of warm water, half a teaspoon of granulated sugar, half a spoon of extra virgin olive oil, 1 teaspoon of salt, 250 g of gluten-free flour, and half a sachet of gluten-free dry yeast in the bread pan. Select the GLUTEN FREE 7 programme, weight 500g, crust colour Medium. If you use the machine for making bread for coeliac disease sufferers, it is important to take care to avoid any contamination with flour or other foods which contain gluten. Display of Girmi MP20 bread machine As you gradually gain experience, however, you'll want to experiment and the gluten-free bread mixes you buy in the supermarket will no longer be enough for the things you want to try. So it will be useful for you to know which flours do not contain gluten, so that you can blend them in your very own recipes. In fact, a mix of at least two flours is needed to make gluten-free bread.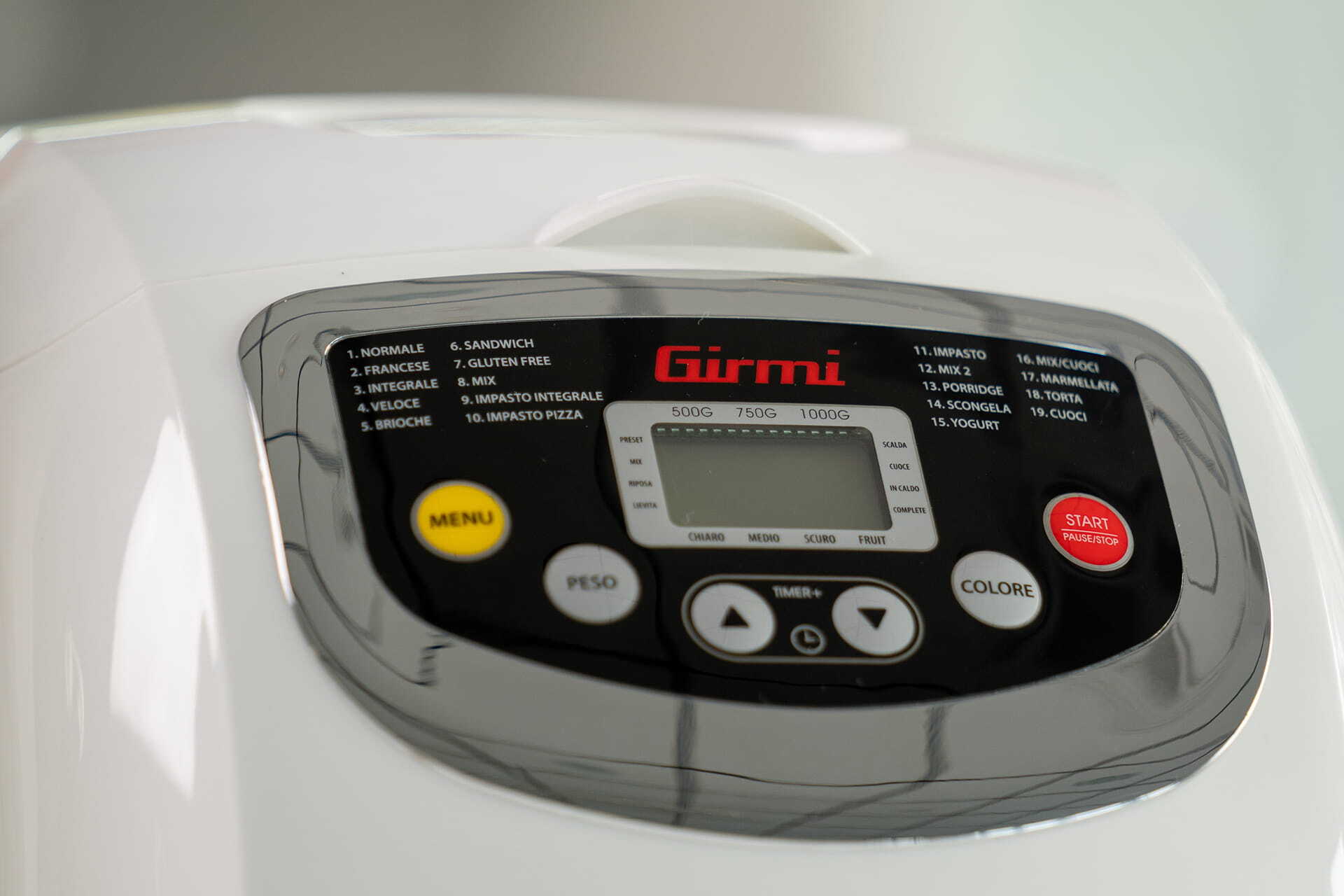 You can use corn, buckwheat, millet or sorghum flour and mix it with a smaller amount of chestnut*, quinoa, chickpea*, amaranth, rice, teff or walnut flour, or replace the second flour with a starch such as potato starch* or tapioca*. However, take care because the foods marked with an asterisk are classified as high risk on the AIC (Italian Coeliac Association) website, because they might contain more than 20 ppm of gluten, or as at risk of contamination, so the AIC only advises coeliac disease sufferers to eat these foods if they are from its approved sources or are marked "gluten free". There are a vast number of recipes for you to try, with the addition of seeds, honey, spices or other permitted ingredients.
How to store bread after baking
Gluten-free bread doesn't keep for long, so it should be made fresh to be enjoyed at its best. With Girmi MP20 you can easily make it whenever you wish; the machine does all the work! Thanks to the electronic control panel with large LCD display and the timer with settings up to 15 hours with delayed start, your bread can be ready exactly when you want it. However, if you wish to store bread to be eaten later (within no more than three days), we advise you to slice it and place it in the fridge in a tightly sealed plastic bag. Even better, freeze it ready sliced and only thaw the amount you're intending to eat.